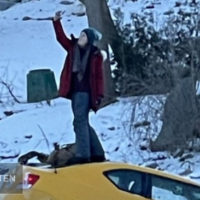 A woman in Canada is facing charges after she drove her car onto a frozen river on Sunday . . . sped down the ice, fell through it, and then took selfies on the roof of her car while people scrambled to save her.
The BIG Morning Show is on the air!
LISTEN LIVE: https://bit.ly/39ytsbc
A Woman Drove on a Frozen River and Took Self...
The Big Morning Show On Demand