Every Weekday Morning at 7:10 on The BIG Morning Show we announce birthdays and anniversaries brought to you by Antoni's Italian Cafe.
Previous Birthdays and Anniversaries
(Audio will expire after approx. 30 days.)
On Friday, one lucky winner will win a $50 Antoni's Italian Cafe Gift Card!
Let us know if you or someone you know are celebrating!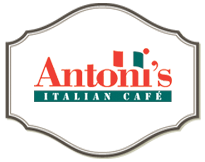 Our weekly winner gets a $50 Gift Card from Antoni's Italian Cafe

Tags: