Reigning Sun Belt Conference champion Louisiana Ragin' Cajuns Softball has scheduled a series of fall season exhibitions – all within the vicinity of its home base – to provide fans with a preview of the 2020 squad.
Louisiana (52-6, 25-0 Sun Belt in 2019) will play three of its four exhibition contests at Lamson Park. Admission is free and open to the public for all games held at Lamson Park.
The fall exhibition schedule kicks off on Friday, Sept. 27 when Southeastern Louisiana visits for a 6 p.m. contest. The following weekend, Louisiana hosts McNeese at 10 a.m. on Saturday, Oct. 5 and Lake Land College at 12 p.m. on Sunday, Oct. 6.
The lone road game of the fall is a trip to Lake Charles on Tuesday, Oct. 15 to face McNeese in a 6 p.m. contest at Joe Miller Field at Cowgirl Diamond.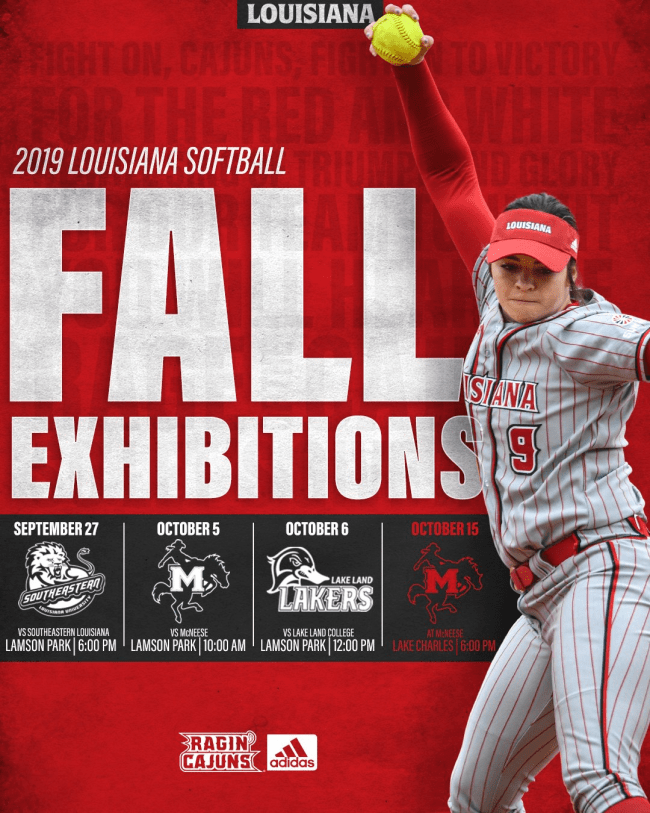 The 2020 Ragin' Cajuns are scheduled to open team practice for the fall season on Friday, Sept. 20.

 

Louisiana enters its third season under the guidance of head coach Gerry Glasco. The list of returners is headlined by NFCA All-American pitcher and Sun Belt Pitcher of the Year Summer Ellyson, Sun Belt Player of the Year Alissa Dalton and Sun Belt Newcomer of the Year Sarah Hudek.

 

The newcomers are highlighted by four Division I transfers (Megan Kleist and Mia Camuso of Oregon as well as Missouri tandem Callie Martin and Geana Torres) and the first signees of the Glasco era.

 

FOLLOW THE RAGIN' CAJUNS

Follow the Ragin' Cajuns on Twitter (@RaginCajunsSB) and Facebook (/RaginCajunsSB) to stay up-to-date on all that is happening with Louisiana Softball.

Tags: