Congress approved naming September 11th as "Patriot Day" in honor of those who lost their lives during the 9/11 attacks in 2001.
This day will always be known as the day 19 militants associated with the Islamic extremist group al Qaeda hijacked four planes. Two planes were flown into the twin towers of the World Trade Center in New York City, a third plane hit the Pentagon just outside Washington, D.C., and the fourth plane crashed in a field in Shanksville, Pennsylvania.
In 2002, the "Tribute in Light" memorial was established when two bright columns of light were shot up into the sky from where the Twin Towers once stood in New York City.  A permanent memorial to the victims of 9/11, "Reflecting Absence", now sits outside the National September 11 Memorial & Museum in an eight-acre park. The memorial consists of two reflecting pools with waterfalls rushing down where the Twin Towers once rose into the sky.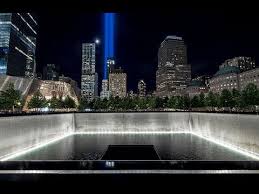 The names of all 2,983 victims are engraved on 152 bronze panels surrounding the pools, arranged by where individuals were on the day of the attacks.
Let us not forget that freedom is not free.
Tags: