Tuna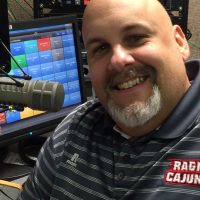 Hang out with your favorite fish, Tuna from 3 til 6! He's the host of Countdown to Quitting Time & the Drive at 5!
Email:  big1021@cox-internet.com
Tony Berthelot, an oyster farmer and breeder, recently made waves on the internet after he introduced a vending machine that dispenses live oysters 24 hours a day. Berthelot's machine, which Reuters reports is a part of a
Latest News
Big 102.1 Listener Logan Landry and his friends decided to have their own fun on an Acadiana Sneaux Day! Logan and his friends didn't need much…..ice, sign, rope, truck and a Breaux Bridge Wal Mart parking lot!!
A Recent Story in Readers Digest, talked about foods that may give you body odor. If your deodorant is not working and you consume a decent amount of these foods, it may be the reason why. 1. 
So, We all know how the Saints/Vikings game ended on Sunday, let's not bring up bad memories.  You may recall Thomas Morstead injuring himself after his first punt of the game, when he made a touchdown-saving tackle
#TheCountdownBegins for Ragin Cajuns Baseball!  We are 30 Days Away from First Pitch! The Cajuns released this video on their Facebook page today!
New Orleans Saints Coach Sean Payton held his end of season press conference Tuesday in the media room at the Ochsner Sports Performance Center. A few takeaways from his session with the media: 1. Payton said the
Time passes by very quickly!!  As you take a look at these 20 pop songs that turn 20 this year…..it will make you say "what?" Here Are 20 Pop Songs That Turn 20 This Year Via www.billboard.com