The BIG Morning Show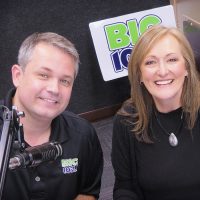 Wake up every morning with The BIG Morning Show!  Renee Revett and Chris Logan are heading up the Fun & Games Department and Ken Romero has 'The Big Picture' to keep you up to date with news headlines on Big 102.1! Big Brain Drain at 6:50, Big 80's Trivia at 7:50, Big Wheel of Meat at 8:35 on Wednesday and Whatcha' Cookin' at 8:10 on Friday!
_______________________________________________
BIG Morning Show Stuff
Who knew when the Bloomin' Onion debuted at Outback Steakhouse it was going to change America forever? Thrillist.com just put together a list of the, "101 dishes that changed America" here are some of the highlights .