Spin The Big Wheel of Meat Wednesday Mornings on The Big Morning Show!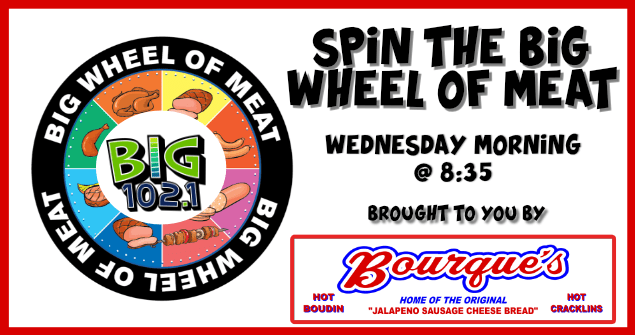 List of items on the Big Wheel of Meat
1lb Hog Cracklins

5lb Pork Boudin (Hot or Cold)

Two Packs Smoked Sausage – Mix and Match!

Two "Seasoned Black Angus Select Rib Eyes"

Two Jalapeno Sausage Cheese Bread Meals (note: includes seasoned fries and drink)

One boneless stuffed chicken (note: stuffed with green onion sausage, jalapeno sausage, boudin, crawfish etouffee, OR shrimp etouffee)

One stuffed pork roast (note: stuffed with seasoning blend and garlic)
Bourque's has hot, fresh boudin & cracklins, boudin balls, boudin egg rolls, burgers, smoked and fresh sausage, breakfast sliders, and is the home of the original "Jalapeno Sausage Cheese Bread."
Bourque's boudin has been rated A+ by Boudin Link's Robert Carriker!  And their Jalapeno Sausage Cheese Bread Burger tied for 1st in the Daily Advertiser's 2019 Battle of the Burgers!
Now open in Lafayette at 3211 Johnston Street and online at BourqueSpecialties.com.