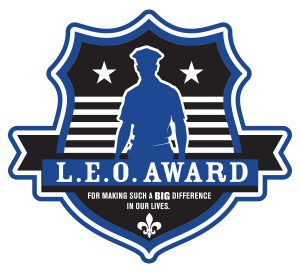 BIG 102.1 and Motor City are proud once again to honor Acadiana's finest Law Enforcement  Officers, nominated by the public and their peers, at the 4th annual L.E.O. Awards Gala, November 20th at The Palmetto Club!
Every day, hundreds of police officers, deputies and marshals put themselves at risk to protect our communities in Acadiana, and BIG 102.1 genuinely says Thank You.
BIG 102.1 will host 40 officers and their guests, at our 2019 gala.  Each officer receives an award from Bayouland Trophies.
Billy Nungesser will be our keynote speaker for the evening.
If you know a deserving officer for our 2019 Awards please fill out the form below.
**PLEASE MAKE SURE TO INCLUDE A PHOTO OF THE OFFICER**
Every weekday morning inside The BIG Morning Show and afternoon show with Tuna, we will announce our LEO Awards Gala Class of 2019.
Here are our LEO's thus far-