Want to help?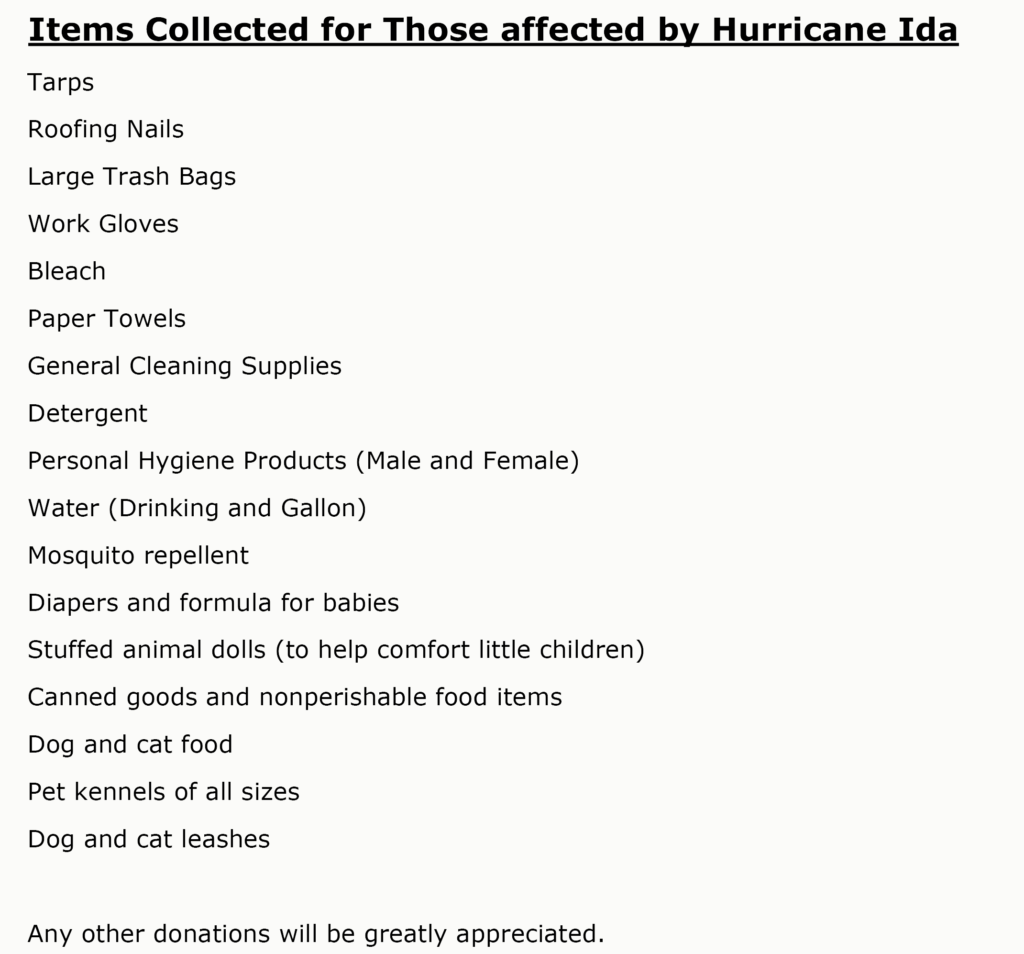 ---
A Student Emergency Fund has been established to offer financial assistance to students of the University of Louisiana at Lafayette. Donations to the fund will enable the University to help students who cannot meet urgent and immediate expenses in the storm's aftermath. Donations can be made by check with Student Emergency Fund noted in the memo line.  Checks made payable to the UL Lafayette Foundation can be sent to UL Lafayette Foundation, P.O. Box 44290, Lafayette, LA 70504.
---
---
Crowley Fire Department at 104 W. Hutchinson Ave. is a donation site for supplies going to several areas just south of New Orleans.
---
Iberia Parish Donation Drives:
---
Carencro Police Department will be making a trip to Houma/Thibodeaux area next week to drop donations off to the storm victims. If anyone would like to donate, you can drop off your donation at Carencro Police Department. We can also arrange to pick up your donation. Anything you can contribute will be greatly appreciated!
---
South Central Region 4 United for Christ is uniting to help those affected by Hurricane Ida. Those interested in volunteering or donating can contact:
Iberia Parish- Rev. Wilfred Johnson 337.241.1972, St. Mary Parish- Rev. Frederick McDaniel 337.210.6090, St. Martin Parish- Bro. Manwell Robertson 225.361.1792, Vermilion Parish-Apostle Crystal Randle 337.230.6693, Lafayette Parish- Sister Maria Broussard 337.501.7617 & Bishop James Gardiner Jr. 337.257.5815
---
The Louisiana Police Institution for Children is collecting donations to provide childcare providers with financial assistance to aid their recovery efforts in the immediate aftermath of Hurricane Ida.
---
Catholic Charities of Acadiana is looking for volunteers to assist in disaster relief:  data collection/call center, tarp teams, damage assessment, muck out/clean up, debris removal & chainsaw crew, food service team member.
---
Seven Slot Society of SWLA will be collecting items for Hurricane Ida Relief at Hurricane Off Road LLC in Lake Charles 2336 East McNeese St. Donations welcomed like bottled water, Nonperishable foods, toiletry items, femine hygiene products, toothpaste/toothbrushes, deodorant, baby formula, diapers, wipes, work gloves, trash bags, tarp, flashlights, batteries, mosquito spray, pet food, new socks, underwear, shirts in packaging. NO USED ITEMS.
---
Hurricane Relief Donation and Distribution Center located at Bead Busters & Float Rentals LLC, 2034 Bonin Road, Youngsville, LA, 337-857-5552. Hours of operation 10am-6:30pm.  We are accepting the following:  Cleaning supplies of all kinds, Bleach, Mold Killer, Leaf rakes, Flat head shovels (not the pointed kind), 5 gallon buckets, Rubber gloves, Garbage bags, Plastic totes/containers, Squeegees, Large plastic tarps, Mops, Water, Sports drinks, Wipes, Diapers, Baby formula, First aid kits, Bug spray, Tire repair kits, Non perishable food items, Toilet paper, Feminine and personal hygiene products, Paper towels, School supplies, New toys, not used, Pet food.    We will NOT be accepting clothes.
---
Hurricane Ida Donation Station to help families affected by Hurricane Ida at Cardon Sales Company 213 Cummings Rd., Broussard from 8-6 M-F & 9-noon S-S. 280-3157, 849-7623. Cleaning supplies of all kinds, bleach, mold killer, leaf rakes, 5 gallon buckets, rubber gloves, garbage bags, squeegees, large plastic tarps, mops, water, sports drinks, wipes, diapers, baby formula, first aid kits, non-perishable food items, toilet paper, paper towels, flat head shovels (no clothing).
---
The Port Barre Police Department, will be collecting supplies for the victims of hurricane Ida. Please bring supplies to the Port Barre Police Department, located at 498 Sazian Ave, Port Barre, La. We will bring the supplies to a designated location in Evangeline parish to be delivered to several southeast locations of the state by the volunteers of "Hurricane Ida Help Our Neighbors".
---

Lafayette Professional Firefighters Association is currently accepting donations and collecting items to be delivered to those who are dealing with the effects of the hurricane. Donations can be dropped off at any Lafayette fire station.
---
Links and Resources: