Did you take the time to watch new movies this year?  Rolling Stone Magazine, recently published their top 10 Movies of 2017. The magazine decided to go with the Oscar-type movies, rather than the blockbuster, mainstream favorites that you're more likely to have seen.  Here's their list!
1.  "Dunkirk"
2.  "Get Out"
3.  "Call Me By Your Name"
4.  "Three Billboards Outside Ebbing, Missouri"
5.  "The Post" . . . a Meryl Streep movie that opens Christmas week.
6.  "Lady Bird"
7.  "The Shape of Water"
8.  "Detroit"
9.  "A Ghost Story"
10.  "Phantom Thread" . . . a Daniel Day Lewis movie opening Christmas Day.
LATEST NEWS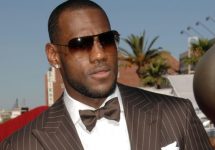 NBA superstar LeBron James and his production company, SpringHill Entertainment, announced a sequel to 1996's "Space Jam" that will boast an all-star team, Ryan Coogler of "Black Panther" is set to produce the film, James will star

Tags: