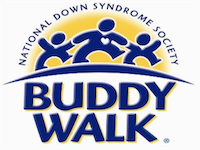 DSAA's 13th Annual Buddy Walk® is to be held on October 28, 2017 at Parc International again!  Members, along with their family and friends, join us as we celebrate one another and walk 1 mile through downtown Lafayette.  Everyone returns to Parc International and has a day filled with great music, dancing, food, plenty of arts and crafts and activities for all ages.  This a family friendly event and we encourage you to participate in our upcoming Buddy Walk®.
9:00 a.m. – 9:45 a.m.
Onsite registration at Parc International.
There are two separate registration areas: Onsite Registration and Pre-Registration/Team Registration. Each participant will need to check in and receive his or her 2017 13th Annual Buddy Walk® t-shirt(s). If bringing pledges, please bring to the cashier's table.
9:45 a.m. – 10:00 a.m.
Opening Ceremony and Buddy Walk®.
Opening Ceremony to include opening announcements, the National Anthem, and a pre-walk warm.
10:00 a.m. – 11:00 a.m.
Walk begins, all participants are welcome to walk a one-mile Buddy Walk®.
11:00 a.m. – 1:00 p.m.
Fun at Parc International.
Relax and have fun with games, music, Cajun food and children's activities
To print a registration form and more info, Check out the Buddy Walk Website!