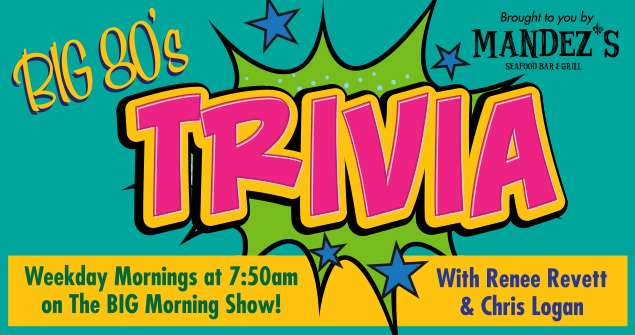 What do YOU Remember from the 80's? The decade that gave us the Rubik's Cube, J.R. Ewing & The Breakfast Club! Test your 80's knowledge weekday mornings on The BIG Morning Show to win delicious food from Mandez's Seafood Bar and Grill!
_______________________________________________
3/23/18 Congratulations to Gus Hernandez of Youngsville… He knew the Billboard Album of the Year in both 1983 AND 1984 was Michael Jackson's Thriller.

3/22/18 Congratulations to Gerald Moreau from New Iberia who figured out that $300 was the average RENT in 1980.

3/21/18 Congratulations to Adrian Derouen of New Iberia… He knew that Sports Illustrated was the original source of cheating allegations against "would've been" Hall of Famer Pete Rose.

3/20/18 Congratulations to Darlene Bergeron of Church Point… She identified the clip from the 1983 film War Games. "Shall we play a game?"

3/19/18 Congratulations to Jo Vincent of Jennings… She knew that Patrick Swayze was the Hollywood star who also had a big hit with She's Like the Wind, from his hit film Dirty Dancing.

3/16/18 Congratulations to John Fonseca of Lafayette… He recognized the clip from the 1980 film classic Stir Crazy… "That's Right,  We bad!"

3/15/18 Congratulations to Doug Shores of Youngsville… He knew that the TV show that debuted in Dec of 1989 that went on to be the longest running American sitcom was The Simpsons.

3/14/18 Congratulations to Danny Young of Eunice… He recognized the lyrics "In winter 1963- it felt like the world would freeze- with John F Kennedy and the Beatles" were from Dream Academy's Life In A Northern Town.

3/13/18 Congratulations to Lorea Williams of Rayne…  She remembered that when MTV debuted in 1981, the SECOND artist featured was Pat Benatar. The video was You Better Run.

3/12/18 Congratulations to Paula Roberts of Lafayette… She was listening to AT 40 with Casey Kasem and knew that Sting sampled Prokofiev in his 1986 hit Russians.

3/9/18 Congratulations to Sophia Keller of Lake Charles… She recalled that 1985's LIVE AID, the Biggest Benefit Concert in History, was organized to aid in Ethiopian Famine Relief.

3/8/18 Congratulations to Nolan Gaspard of New Iberia… He knew that Mel Gibson was the first ever with the designation People Magazine's Sexiest Man Alive in 1985.

3/7/18 Congratulations to Melissa Thibodeaux of Church Point … She recognized the '80s Movie clip from The Fly … "Be afraid, be very afraid!!"

3/6/18 Congratulations Joe Luna of Maurice… He remembered Marlee Matlin was the Best Actress winner in 1986 for her performance in Children of a Lesser God.

3/5/18 Congratulations Roxanne Hargrave of Carencro… She knew that according to Casey Kasem, the group Queen was the most educated Rock Group to top the chart.