Fast & Jenn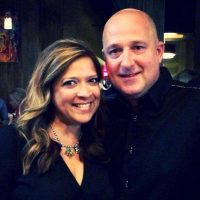 "Fast Eddie" or "Fast" has been on the air in Lafayette Louisiana since 1985, working on many of the top stations during his career. "Fast" has worked behind the scenes in both the programming and sales departments. "Fast" and his wife Jenn are the first local married morning show in the Lafayette market! Family is always first with "Fast and Jenn". Since the team is married with children, their family seems to be intertwined with their show! It is a unique concept, almost a bit of a "reality" radio show! Find Yes or B.S at 6:50, The Big List of Birthdays at 7:10, Nearly Impossible Question at 7:50, Big 9@9 at 9:00 every weekday Morning!  We are also home of the Big Wheel of Meat on Wednesday Morning at 8:35, Whats the Word on Wednesday and Thursday morning at 8:20 and Throwback Thursday from 7:00 til 10:00 every Thursday am!
Email:  fast@big1021.com
___________________________________________________________
As heard on the Fast & Jenn Morning Show!
CAJUN FOOD TOURS IS NOW OFFERING AN ALL NEW 'AROUND THE WORLD IN ACADIANA'
• The new "Around the World Food Tour" introduces guests to authentic international tastes. Taking you to a variety of Lafayette's best family-owned restaurants
• Roll out of your culinary comfort zone on our cozy customized party bus!
• Book any Wednesday or Thursday night; book online at CAJUNFOODTOURS.COM
• Tour begins at 6:30 and last about 3 hours
• One low price includes all the food and all the fun on this 3-hour tour!
HERE IS A QUICK VIDEO ON WHAT YOU CAN EXPECT WHEN ON A 'CAJUN FOOD TOUR' AND AN IDEA OF WHAT WILL HAPPEN ON THE NEW 'AROUND THE WORLD TOUR' 
Here are some pics from Fast & Jenn's 'Around the World in Acadiana' Food Tour
LATEST NEWS
Acadiana, are you ready for Drago's? Drago's Lafayette Sign Going Up Via developinglafayette.com This is why we do what we do. I was on a simple errand, when I decide to make a quick pass by… 08/17/2017
New Music from Robert Plant coming in October, it's his first solo album in 3 years! Robert Plant Releasing 'Carry Fire' Album in October, Listen to 'The May Queen' Now Via www.billboard.com Rock icon Robert Plant will
On Monday August 21st the eclipse will take place, this seems to be the buzz lately! But how much better will the eclipse be, with Bonnie Tyler singing 'Total Eclipse of the Heart?" Bonnie Tyler to Sing